A simple way to love your life in letters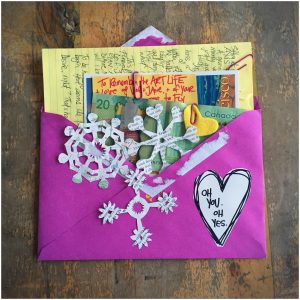 For many years now I have been writing a letter to myself to honour my birthday – to open the following year.  It has been a surprisingly meaningful self love ritual in my life, and I want to share it with you.
Even if today is NOT your birthday, please accept my gift – the Birthday Letter Ritual guidebook.
It's a 7-page colourful walk-through of what this ritual entails.  It will show you how and when to get started, what to write about, and why it is important in ways you might not expect. Also, what do you do if you forget or lose your letter from the year before? Spoiler alert – this does not mean your ritual has been ruined.
This Birthday ritual is a practical + magical way to capture your life in a romantic bundle of hand-crafted letters. It can also be profoundly beautiful practice to honour the fullness of life's twists and dreams.  You can get started today, no matter when your birthday falls! Scribble up a sweet little note for yourself to open when your next birthday slides up beside you.
Wishing you a celebrated life, on your birthday and every day.